Our Swan Valley Winery Experience Tours or Swan Valley Twilight Tours offer pickups from Perth CBD accommodation. Please phone 9377 3376/0419954402 or email info@outandabouttours.com.au the office for a pickup time.
If you are not staying in the Perth CBD we do a general pickup at the Tourist Coach Rank on the Corner of Wellington St & William St Perth City. Pickup is at 9.45am (please be there 10 mins prior) on the corner of William & Wellington Streets (Perth train station side of William St lights). There is a bus bay located on the Train Station side of Wellington Street (REFER MAP FOR MEETING POINT LOCATIONS)
Swan Valley Winery Experience Tour – at 9.45am (Please be there 10 mins prior)
Swan Valley Twilight Tour – at 3.30pm (Please be there 10 mins prior)
Swan Valley River Cruise & Vineyard Tour – please meet at the Captain Cook office (they do our cruise section of the tour) at Barrack St Jetty between 9.15 and 9.30am. (SEE BOTTOM OF MAP FOR DIRECTIONS)
Out for the Afternoon – please meet in the car park (next to the walk over bridge) at the GUILDFORD TRAIN STATION for a 11.45am departure (please be there 10 mins prior). Guildford is a short 10-15 min train ride from the Perth Station on the Midland line. Guildford is a quaint village with delightful antique and coffee shops so if you arrive early enjoy. At the end of the tour you can be dropped off in Guildford or back in the CBD.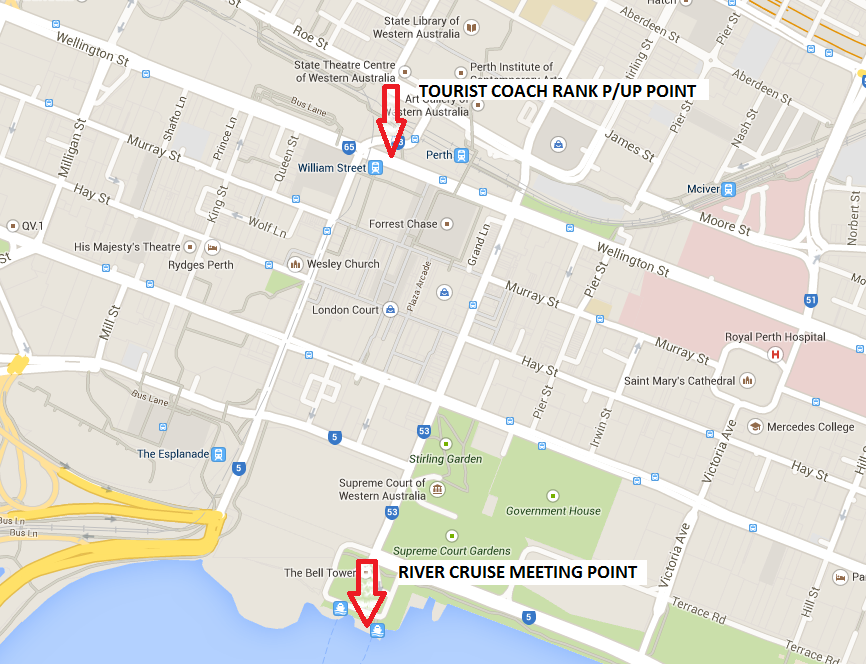 Out for the Afternoon – 11.4am Guildford Train Station car park (by the walk over bridge)